About the Store

Metro Entertainment has been locally owned and operated since July of 1991. Winner of the Independent's "Best Of.." Award, Metro has been singled out as the best comic shop in town in the era of the big comic boom and has continued to thrive. Originally setting up shop across the street from its current location under the 'Metro Comics' banner, the folks at Metro work hard to bring the best of the realms of pop culture and art to the local scene.
| | |
| --- | --- |
| | Bob Ficarra is the Owner of the store, able to be reached regarding major purchasing and store concerns. |
| | Jon Givetz is the Store Manager, handling purchases for games-related items, as well as comic book grading and handling collections and back issue purchasing. |
| | Carla Hoffman continues to make this website. |
| | Jaron Williams is the new Bat in town. |
| | Hank Romero has tipped his hat g'bye to Santa Barbara to make it big in Hollywood. We still miss the lil' guy. |
| | Jamie Andreassen is always more than meets the eye. |
| | Ish Ulloa will always run the Flash Museum out of Keystone City. |
| | Sanders MacRae moved to Gotham City. We'll miss you, Sanders! |
| | Chris Donati is keeping it real. |
| | Mia Resella crossed to the dark side. |
| | |
| --- | --- |
| | Chris Bonham am not Webzarro. |
Contact
Metro Entertainment is located at 6 West Anapamu St. in the heart of downtown Santa Barbara, CA.
Click on the map below for google directions to the store.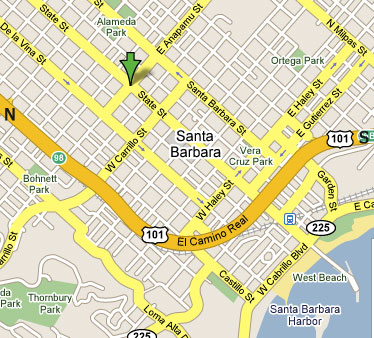 Hours: Metro is Open EVERY DAY from 10am-7pm (excluding Thanksgiving and Christmas Day)
Address: 6 W. Anapamu St. Santa Barbara, CA 93101
Phone: (805) 963-2168
Fax: (805) 963-6698
Email: metrouniverse@aol.com
Webmaster: metroplanetary@aol.com